"How can you do somebody that bad?"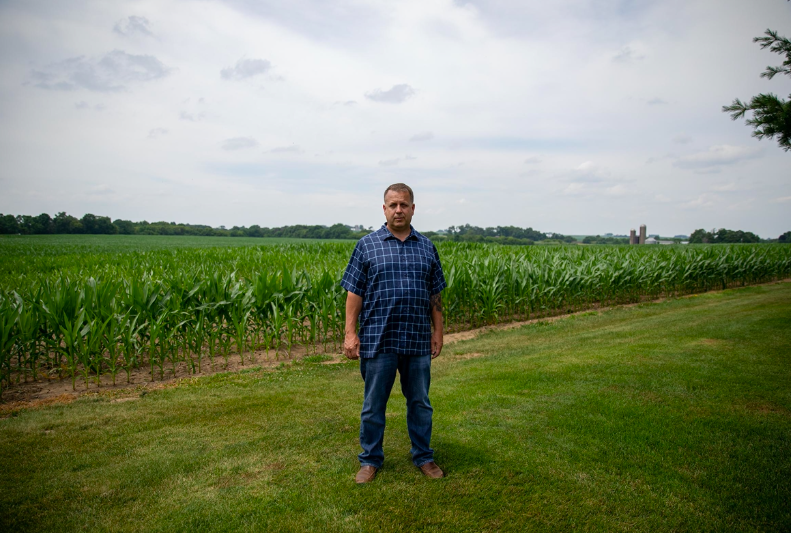 Rob Armour, Argosy University in Schaumburg, Illinois
Rob Armour knows the value of a good education, and he's not one to let adversity stand in his way. After dropping out of high school, Rob enlisted in the Army National Guard, and when he finished his service, he found a job at the Illinois Department of Corrections. That's when Rob decided to restart his education. He earned a GED at his local community college, and then an associate's degree. Before long he had added a bachelor's degree and then a master's—all while working full time.
Over his two decades with the Department of Corrections, Rob watched "young men turn into old men" in prison. In the process he became determined to help solve America's incarceration crisis as a psychologist for the prison system. There was only one catch. Rob would need a doctorate degree. Living in rural Illinois, three hours from Chicago, it proved hard to find a traditional public or non-profit university nearby where he would be able to research youth criminal prevention.
Of course, Rob was not to be deterred. He found Argosy University, a for-profit college with a campus in Schaumburg, Illinois, hours closer to Rob than schools in Chicago. Argosy's doctoral program was expensive, and Rob would have to modify his work schedule to be on campus during the week. But Rob made it work, taking out student loans for the first time in his life.
Rob excelled in his studies, externships, and internship. He enjoyed his classes and working with other students. Then came two events that would change Rob's life forever.
In 2017, Argosy University and other schools owned by the Education Management Company (EDMC) were sold to the Dream Center Foundation, a Los Angeles-based non-profit organization with no background in higher education.
The same year Rob was diagnosed with Stage III colon cancer. Despite the diagnosis, Rob continued his studies, even wearing his chemo bag to class while he underwent treatment. But the following spring, Rob learned the cancer had spread, and his treatment would require a leave of absence from school.
Meanwhile, though Rob hadn't noticed any effects of Argosy's ownership change in his studies, the school's financial health was also quietly ailing. On December 14, 2018, while Rob was still on leave recovering surgery, Argosy Schaumburg abruptly closed. Rob was more than five years into a degree he would not be able to complete.
Following the closure, Argosy told Rob that he should complete his degree in Chicago. But adding a three-hour commute to his ongoing recovery was not a realistic option. Instead, Rob decided to abandon his dream of finishing his degree and apply for what's known as "closed school discharge."
By federal law, students who are enrolled in a school within 120 days of its closure—including those on a school-approved leave—are entitled to debt relief. Closed school discharge completely wipes out borrowers' federal loans and refunds their payments. It also invalidates their coursework and credits.
In Rob's case, that meant a discharge of over $100,000 and a refund of approximately $34,000 more, but it also meant renouncing five years of hard work when he was just a year short of finishing his degree. Argosy had left him no choice.
Rob discussing why closed-school discharges don't make you whole:
Rob compiled all the paperwork for a closed-school discharge, including the documents from Argosy University granting his medical leave of absence. He submitted the documents and application in March of 2019. In April, Rob's loan servicer, FedLoan, informed him that he appeared to meet the criteria for a closed-school discharge and that his application would be sent to the Department of Education for final approval. A month later, the Department denied his application on the basis that he had withdrawn from the school more than 120 days before it closed in December of 2018. They offered no further explanation.
Because Rob was denied a closed school discharge, he was immediately required to start paying down his student loans—loans that amounted to over $125,000 with $1,000-a-month payments.
Student Defense's Involvement
In August 2019, Student Defense filed a lawsuit on Rob's behalf, demanding that the Department of Education discharge his loans. The lawsuit remains ongoing (more information about his case is available here). Later that year, Rob's cancer returned, and he is undergoing treatment while the Department of Education continues to deny his requests for assistance.
Update: Rob Armour passed away in October 2020. Student Defense continued to pursue the claims on behalf of his wife, executor of his estate. In a November 5, 2020 ruling, the court found that Rob had successfully alleged that the denial was arbitrary and capricious under the Administrative Procedure Act, and that he stated a valid claim under the due process clause of the Constitution.